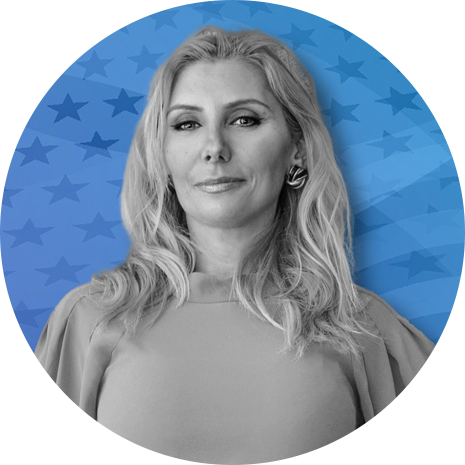 A conversation with THE BASA PRESIDENT
Anna Stella
Anna Stella is a multi award-winning marketing expert and academic researcher, and now the President of the Best of America Small Business Awards, but how did she get here?

The Best of America Small Business Awards welcomed Anna as the president of the BASA and invited her to share her story in a short interview.
What impact will winners have by winning the awards?
Seeing their work finally getting recognized will definitely make them feel proud of all their hard work and achievements. It takes a lot of effort, time, and sacrifice to take a small business off the ground. But more often than not, the focus is always on the bigger companies, who have the budgets and the marketers creating a stronger narrative for them.
Since small doesn't mean low quality, and it's often the opposite, participating in the award can benefit you whether you are a finalist or a winner. The award can give your small company a competitive edge and help improve your reputation in your industry. Furthermore, when you win, you will have some positive news to share with clients and employees, which in turn helps create a stronger bond with them.
As the Best of American Awards president, can you describe your job in one line?
I'm a small business ambassador, here to promote, support, and voice their results by ensuring the process of selecting the 150 category winners is rigorous and fair.
What do you want to see in the BASA winners?
There are mainly two things am focused on. I first want to see business excellence. I don't mean excellence in the sense of having great balance sheets and massive growth at all costs but rather a sustainable business that is operational and also profitable. In other words, I want a business with higher and clear intentions, sincere effort, and one that intelligently executes its vision and mission as a company. Another thing that I want to see is a company that has and value diversity in its teams and people running the company.
What does diversity mean to you?
It means appreciating and respecting people who don't look like the typical famous people we see on TV. People may look or sound different, have different jobs or interests, and come from different backgrounds. But as a society, we need to embrace each person despite their background and take the differences as assets.
"The BASA award gives your small company a competitive edge and helps you improve your reputation in the industry. Furthermore, when you become either a Finalist or a Winner, you will have some exciting news to share with clients and employees, which in turn helps create a stronger bond with them."
As an entrepreneur, what advice would you give to people running a successful business?
Although I have been in business for more than 20 years, I always see myself as a marker first since my background is in marketing. So, I'd tell them to stay focused on their company goals and avoid getting influenced by common beliefs. Although a large company starts small, there is nothing wrong with staying small.
And finally, if you could recommend a holiday destination anywhere in the world, where would it be and why?
I'd recommend to visit Turtle Island. It is a little private heaven in the heart of the Yasawa archipelago in the Fiji Islands. It has amazing beaches filled with natural beauty and azure waters. A truly fantastic place to visit!
---